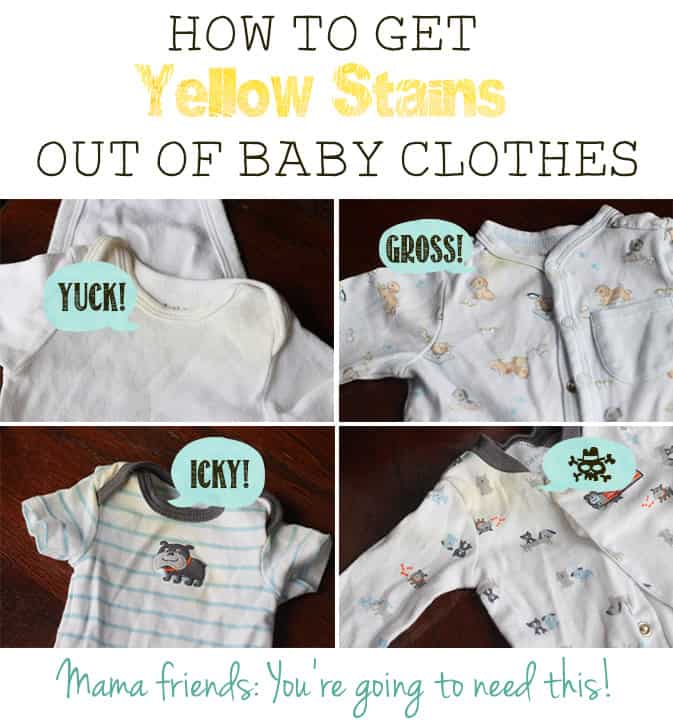 Sometimes, blowouts happen. While it is true that blowouts are less likely to happen with cloth diapers, they can still be inevitable. I learned this the hard way starting out when I did not button my son's cloth diaper correctly. Then next time he pooped-BAM! It was everywhere and the freaking out began.
This happens to every parent.. unless you are one of these parents who invest in things like this below (yes, this is a real thing!). But for the rest of us, we will need some guidance once that time comes-and you will never forget it… EVER.
A lot of parents make the mistake of not soaking or rinsing the poop off as soon as it happens. The longer you let it sit on the clothing, the harder it will be to get out. The same goes for breastmilk or infant formula! These will leave pesky yellow stains that will seem nearly impossible to get rid of. Thank goodness, over the years, I have found a method that works to getting all of those stains out.
To get those stains out, you will have to act fast! Here's what to do:
Use dish soap to treat the stain. Just put a small amount of soap (I'm assuming any dish soap would work–we use AJAX) on the affected area. Spread it around a bit so the whole area is covered with soap. Then wet it enough to build up a lather while rubbing it together.
Then soak the items in a tub filled with warm water and baking soda.
Then proceed to wash your poop stained clothing via this method: Pre-rinse, Wash on the warm setting with OxiClean and your usual detergent. Follow with one more rinse.
When the wash is finished, you will obviously want to dry the garment, but please keep note of this: ONLY AIR DRY! Do not use your dryer. When an item is wet, it can fool you into believing that the stain is not there! You can only really tell if the stain is completely gone when the outfit is totally dry. Better yet, dry the outfit in the sun. The sun has amazing stain removal properties, so take advantage of them! And its bleaching power is free, which is even better.
How do you get your baby's stains out?